In-depth Review Of From Newbie To Millionaire
____________________________________________
Product Name: From Newbie To Millionaire
Overall Rating:  75%
Web-page:  http://www.fromnewbietomillionaire.com/
Price of E-Book:  $47
Overall Opinion:  There are better products out there but this one is pretty solid as well.
____________________________________________
 
What I Like
Everything you ever wanted to know about making money through affiliate marketing but were afraid to ask
Real life examples
You can tell she really does care about helping
What I Don't Like
The organization does not lend itself to learning
Written In 2012 while updated still a little dated
Website looks all of those scam sites

Summary
Who is this for:  This product is for those who want to learn the ins and out of affiliate marketing and who are self motivated and can expand upon the knowledge they gain from the book.
This book is a very comprehensive book about affiliate marketing and how to make money off of it.  It also teaches white hat SEO techniques and still remains relevant today.
Who This Is Not For:  If you have trouble self starting.  If you have trouble taking an encyclopedias worth of knowledge and forming an action plan then this is not for you.
What you will get:
An in-depth look at affiliate marketing
Brief overview of other ways to make money online
An easy assess e-book that arrives right after you pay
How I found From Newbie To Millionaire:  I knew I wanted more out of life than working for a employer who just view me as a number and considered me very expendable.
I was frantically searching online for an answer to my problem I wanted to make money but I didn't know how so I kept looking and I stumbled upon affiliate marketing, something I had never heard of.  I looked up many books on the subject and found From Newbie To Millionaire.  It seemed legit and so I got it and read it.
What I found was an honest book about affiliate marketing.  It was not a get rich scheme or make money in just a week.  It told the cold hard truth about how much work it takes to get from zero to the top.  Well after reading it I still felt like I did not know what I was doing so I tried Wealthy Affiliate and it helped me put my knowledge into action.
What To Expect
This is a very comprehensive book it doesn't leave anything out.  It is more like an encyclopedia than a step by step guide to making money which is a benefit and a large detractor for it as well.  The reason for the negative is that it is hard to form a plan of action with so much information thrown you way and this book it just that it is not structured in a way that is easy to follow more informative than instructive.  I still look to it for information from time to time, but I left reading it feeling kind of overwhelmed.  Which I will admit was a little on me, but also somewhat on the book as well.
Now this is not a bad book by any means but just not as practical as one would want.  She is not a seasoned instructional writer and it shows.  The books structure is more kind of a mismatch of what she wanted to talk about at the time.  I would have been better had she edited it and had a step by step plan for all her readers.  Instead she starts with definitions once you get in to the meat of the book.  This doesn't help because you normally have to reference back to them later on when she discusses how to become an affiliate marketer.
With all of its flaws it is a good book if you are self motivated and can take the whole books encyclopedic knowledge and start with it you can make money off of it but for most I fear it could be very overwhelming.
My Opinion On From Newbie To Millionaire
For 47 dollars it is not a bad deal.  It will not be for all but it is a great reference book and if you are a great self starter and motivated then definitly give it a try.  You will not find a more honest comprehensive guide to affiliate marketing.
There are better products out there that cover the same information but are much better and easier to follow.  The one I cannot recommend enough is Wealthy Affiliate.  Wealthy Affiliate is one of the best platforms for learning how to make money online I have ever experienced and one I will stay with because they offer so much value for what you are paying.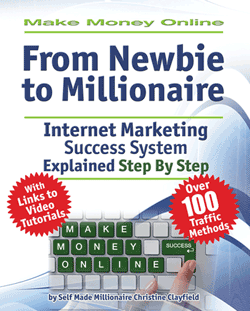 Pros:
More information than you ever thought possible
An honest view of affiliate marketing
She tells her story and how she got to where she is today
No BS she tells you it will take hard work and motivation
Cons:
 So much information it is hard to make a plan of action
Website looks scammy but isn't
If you are interested you should check out the website here.